Jeff's Ice-O-Miniums sleepers provides the biggest ice fishing shacks and shanty rentals among the best sleeper outfitters for ice fishing Lake of the Woods.
Welcome to our home on the web!
If you're into having a great time ice fishing in warm, comfortable quarters on a world class walleye fishery, you've found the right place.
Jeff's makes it simple!
Jeff's Ice-O-Miniums sleeper ice shack and ice shanty rentals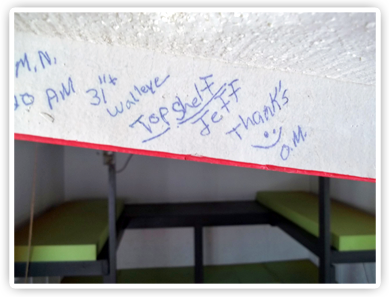 -
4, 6, 8 and 10 person ice fishing sleeper houses
- Private plowed lake access right to your doorstep
- Sleeper houses cleaned between each group
- Ice fishing shacks are moved between visits if required
- Full size gas ranges with ovens in all sleepers
- Gas lights and heaters on thermostats
- (but not necessary) - electrical outlets and lighting is run into the house ready to plug in your generator, ready to go.
- Covered Padded bunks
- Fishing electronics and beverage shelves for all
- Very well insulated, roomy, user friendly and comfortable
- Private Restrooms inside each house
- Live bait included
- Portable ice fishing shacks ARE very welcome WITH our sleeper guests
- Low floors for easy access and view
- Fish houses are always maintained, improved and new houses are built annually
4 person ice fishing shacks are a comfortable 13'x16'
6 person ice fishing shacks are a spacious 13'x22'
8 person ice fishing shacks are a gigantic 13'x28'


10 person ice fishing shacks are an incredible 13'x34'
And ice fishing with Jeff on Lake of the Woods is World Class...
What our customers are saying...
---
Best Ice fishing I ever did. Jeff is a wonderfull host he stoped by every day to make sure we had everything we needed. The shack was huge and very comfortable, i could have stayed the whole week.
R. Vener
St. Paul MN
---
I have booked trips with Jeff for the last 15 years. Jeff has always worked hard to locate fish for us and share his knowledge about techniques resulting in not only a great time but a great fishing experience. Fishing through Jeff's is more like fishing with a friend versus the big operations where you are just another person who they don't remember. I have made fishing with Jeff a tradition in my family by including my boys and grandson in the annual fishing events to LOW. I highly recommend Jeff for a great time fishing in a relaxed atmosphere.
Guido
Mahtomedi, MN
---
Had a great time at Jeff's. He knows how to take care of his customers. I'm planning to go back every winter. Thanks Jeff for everything.
D. Abbott
St. Paul, MN
---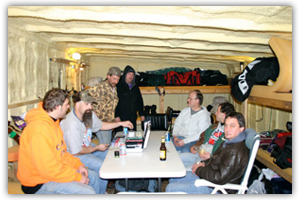 Thanks for the great hospitality and service! Our 8 man group had a blast! We will be back!
J. Klarkowski
Minneapolis, MN
---
Thanks for the awesome time this weekend Jeff. That 8 man looked small when we first got there but it was definatly put together with a lot of thought in mind. We fished 16 holes and the full cooktop range and the set up for electricity made it comfortable for all eight of us. Best part of the house was the bathroom. Having two doors one going outside and one going back into the house was a great idea. Cant wait till next year!
R. Goetz
Brooklyn Park, MN
---
Again, Jeff runs a personal service, book your dates before they fill up!