What Jeff's Ice-O-Miniums customers are saying...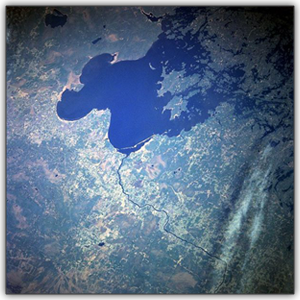 Add your story, send it and your photos to us!
---
DISCLAIMER: Please do not confuse the spelling of GUIDE and GOD. Jeff does not guarantee fish,
though some clients may argue that!
---
<-- Lake of the Woods as seen from space - photo courtesy of NASA
---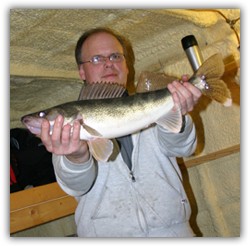 Thanks for the awesome time this weekend Jeff. The 8 man looked small when we first got there but it was definitely put together with a lot of thought in mind. We fished 16 holes and with the full cooktop range and the set up for electricity made our stay very comfortable for all eight of us. The best part of the house was the bathroom. Having two doors, one going outside and one going back into the house was a great idea. Can't wait till next year!
R. Goetz
Brooklyn Park, MN
---
After fishing with other outfitters on other high profile Minnesota ice fishing lakes I'd been very disappointed with both the catch (or lack of a catch) and basically having someone pick up a check and dropping us off and not seeing them again. I had decided to quit going to outfitters. I heard about Jeff's services and great fishing through a good friend and decided to try again with my father. Unreal! Awesome fishing! Awesome service! Jeff actually checks in daily at least 2 or 3 times and brings both good company and advice (if requested) with his visits. I have referred friends over and won't waste my time at some of the lakes further south.
M. Swan
Minneapolis, MN
---
Best ice fishing I ever did. Jeff is a wonderfull host he stopped by every day to make sure we had everything we needed. The shack was huge and very comfortable, I could have stayed the whole week.
R. Vener
St. Paul MN
---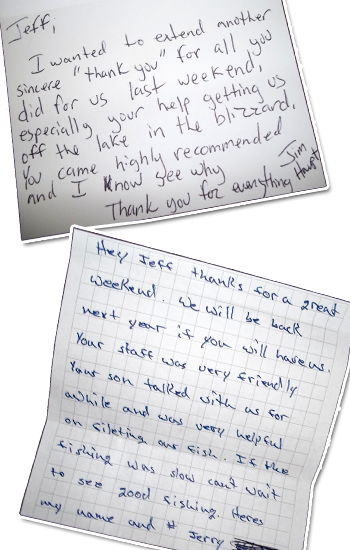 ---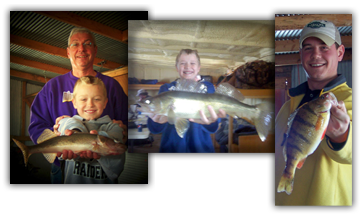 I have booked trips with Jeff for the last 15 years. Jeff has always worked hard to locate fish for us and share his knowledge about techniques resulting in not only a great time but a great fishing experience. Fishing through Jeff's is more like fishing with a friend versus the big operations where you are just another person who they don't remember. I have made fishing with Jeff a tradition in my family by including my boys and grandson in the annual fishing events to LOW. I highly recommend Jeff for a great time fishing in a relaxed atmosphere.
Guido
Mahtomedi, MN
---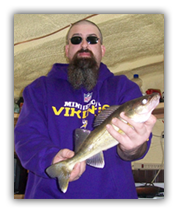 Had a great time at Jeff's Ice-O-Miniums in the 2011 season. He knows how to take care of his customers. We're planning to go back every winter. Thanks Jeff , for everything!
D. Abbott
St. Paul, MN
---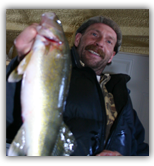 Jeff of Jeff's Iceominiums offers a top-notch ice fishing experience. We killed 'em during our visit last winter! Not to mention the fact that Jeff's a great guy that will take care of your needs the entire stay! Thanks for the great hospitality and service! Our 8 man group had a blast! We'll definitely be back!
J. Klarkowski
Minneapolis, MN
---
Again, Jeff runs a personal service, book your dates before they fill up!