About Jeff and Lake of the Woods Ice Fishing
Jeff grew up an avid outdoorsman fishing and hunting the Lake of the Woods area in the 60's and 70's
He started guiding during the late 1970's (a former charterboat captain for many years). As Jeff says "If I'm away from The Lake too long, my gills might dry up!". He's enjoyed a lifetime of outfitting customers, family and friends to help them get set up for fishing the great Lake of the Woods for fishing
walleyes, sauger, perch, northern pike, tulibee, and even eelpout.
And the ice fishing on Lake of the Woods is World Class...
Jeff, wife LuAnn, and sons Robbie and Chris run the small, simple and clean ice fishing outfitter operation;
Jeff's Ice-O-Miniums
. In the off season, he builds and maintains the well built ice fishing houses, and after more than 25 years of operating rentals on Lake of the Woods, he's learned how to do it right. He selects time proven locations for his shelters and plows the roads himself. They are genuinely concerned about both your comfort and success during your stay. His honest approach and easy way with customers has allowed Jeff's to grow a very loyal customer base who return season after season who come to catch fish and enjoy the great and powerful Lake of the Woods.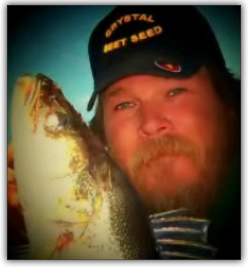 You won't hear promises of trophy walleye (though you definitely have a shot!), nor will you hear promises of fish all day (though you probably will!), rather, you'll find Jeff honest to a fault; happy to BS, but he won't BS you.
Take a few moments and review our website and see how we operate. We've provided information on
species of fish you will catch
,
how to ice fish for them
and
what to bring
to ensure you have a good time.
If Jeff's looks like a good fit for your family, friends, school, or business ice fishing outing, contact us.

You'll be glad you did!